Work commissioned for several winter light festivals and special events. Often taking my art out of formal settings and exhibiting it in public spaces. Exploring geometry and the properties of ultra violet light.
Collaborating with fellow artist educator Amanda Yates, I was commissioned by arts-led production company Curated Place to build a series of large scale sculptures for two light festivals. The pieces were realised during a residency at Artwork Atelier studios, Manchester, with the generous help from volunteers. The work was shown at Spectra Festival of Light, Aberdeen and Enlighten Festival of Light & Sound, Bury. The pieces measure between 3m and 5m in diameter and are available for exhibition.
Spectra Schools Residency
Collaborating with fellow artist educator Amanda Yates, I was commissioned to design and deliver a major schools outreach project for Spectra Festival of Light in Aberdeen. The aim was to link art and design with numeracy and to link with the Scottish Curriculum for Excellence. Working with 12 classes from across the city, including a unit for visually impaired children, a children's centre and a group with English as an additional language. Teachers were impressed with how challenging yet achievable the project was for all their students. Inviting the schools to take part helped to broaden the audience of the festival and create an inclusive atmosphere. The festival saw 92,000 visits over a 4 day period. At the end of the festival the installation was dismantled and the work sent back to each school.
I was asked to co-design and deliver a workshop for the opening weekend of the V&A Dundee. Taking inspiration from the projections and light art commissioned for the launch evening festival. Collaborating with designer Louise Kirby, we developed an activity using paper and neon colours to be achievable by all visitors regardless of age or experience. Participants were encouraged to take their inspiration from the museum architecture and to create a 2D or 3D piece to add to an installation lit with UV.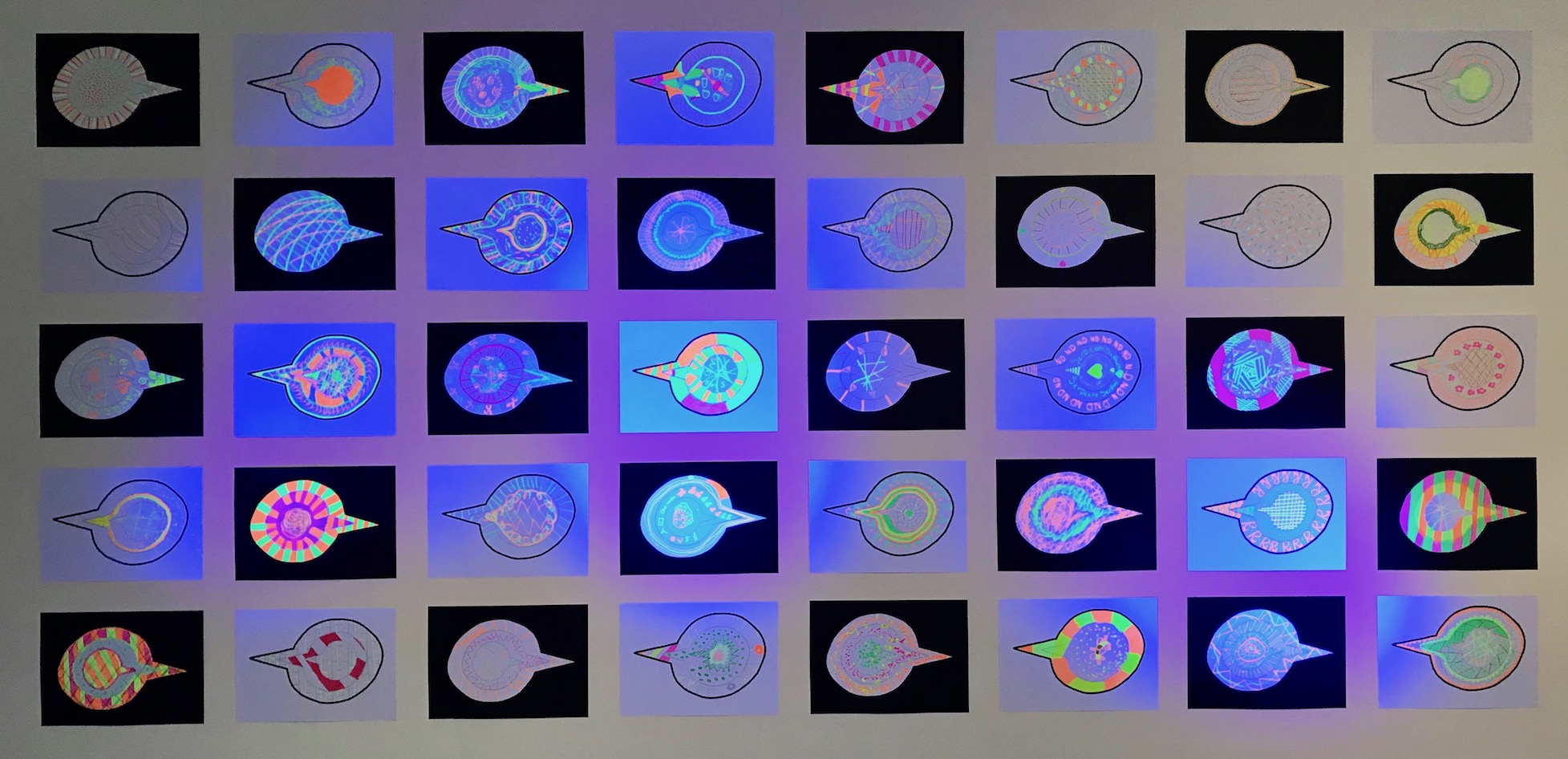 Schools project for the Fruitmarket Gallery, Edinburgh. SmART Thinking is an innovative education programme that aims to help close the attainment gap in schools through arts and creative learning, supporting children and young people to reach their potential. I was asked to design and deliver a project which brought together my skills in ceramics and light. The project involved gallery workshops, in-school making workshops and curating an exhibition of the work the young people had produced. More can be seen in the Ceramics & Fire section of my site. Images by Sally Jubb Photography.
I asked the young artists to think about the idea of outside and inside. On one side of their speech bubble, they wrote a fact that people might easily know about them. On the reverse side, they wrote a secret, or feeling onto black card. Their work was exhibited anonymously while also giving the young artists a voice. Visitors to the exhibition used UV torches to reveal the messages written with fluorescent pens, which weren't visible to the naked eye. These photographs show the artists exploring their own work at a special exhibition preview for their classes.
I created a simple text piece for Spectra Festival of Light in Aberdeen. Taking the phrase from Doric, the local dialect, I spelt out Fit Like, a common greeting meaning "how are you?". The piece proved incredibly popular with visitors and helped to give the festival a sense of place.
The piece was widely shared on social media, helping to promote the festival and help visitors take ownership.
In collaboration with artist Amanda Yates, created several UV installations for light festivals in Aberdeen and Greater Manchester.