A series of projects with schools, community groups and at public events. Using arts and crafts to learn about and engage in heritage.
Stained Glass Paper Cuts, Historic Environment Scotland
Drop-in workshops at Trinity House maritime museum, Melrose Abbey and Dryburgh Abbey. Participants glued coloured tissue paper to designs which were laser cut into black card. Visitors were encouraged to imagine what the abbeys looked like when they were in use.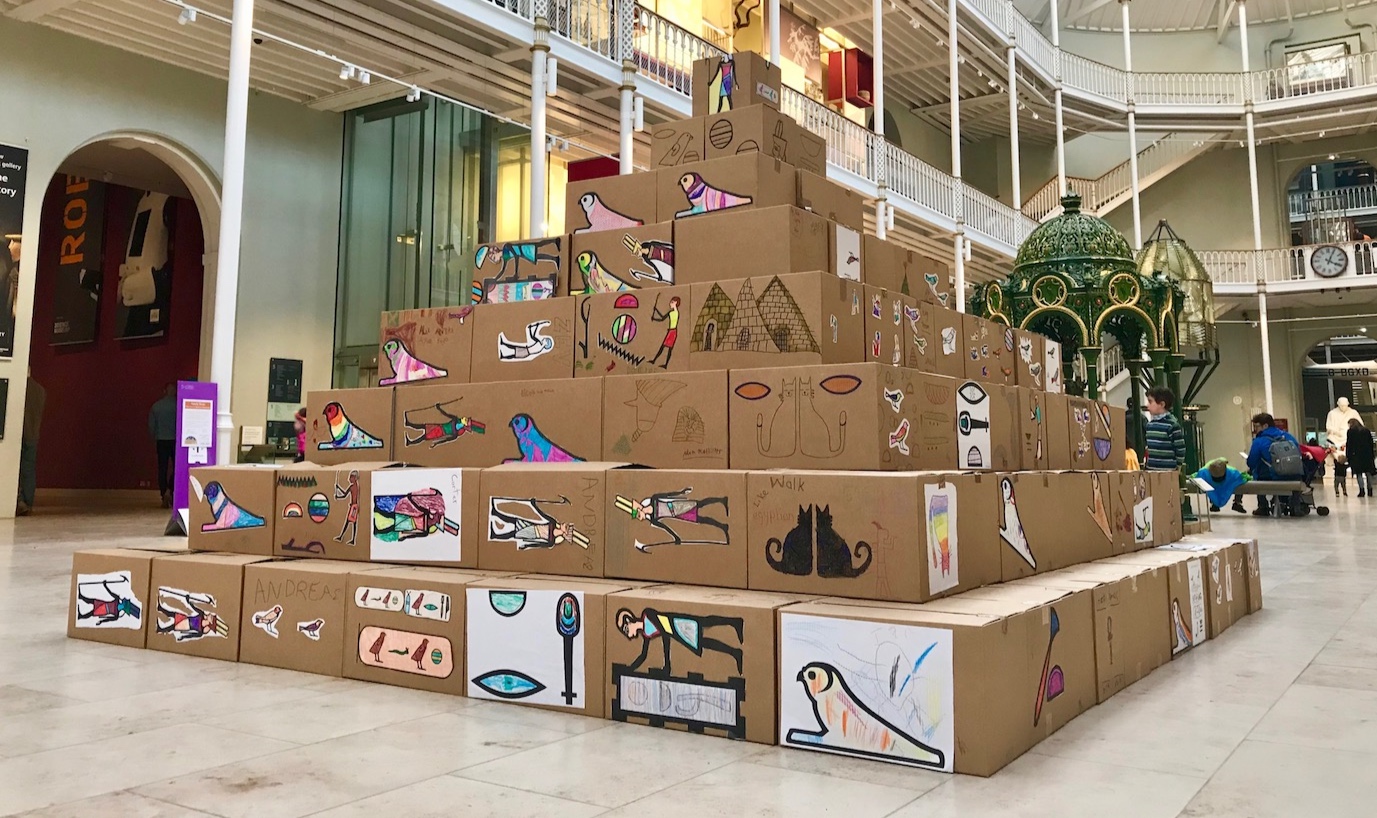 Pyramid Building, National Museum of Scotland
I was commissioned by the National Museum of Scotland to design and build a pyramid with the public. The two day event was to celebrate the reopening of their Ancient Egypt Gallery. Teams of builders decorated their "stone blacks" with hieroglyphics, in the "quarry", before adding them to the pyramid.
Remembrance Poppies, Edinburgh Castle
I was commissioned to design and deliver an activity to for a WW1 anniversary event at Edinburgh Castle. The castle can attract as many as 10,000 visitors in a single day, mostly adults. I designed the activity to be quick and accessible for all ages and for those with limited English. Participants could choose to have their die cut poppy on a stem, as a brooch, or as a hair accessory.
Soap Carving, National Museum of Scotland
Drop-in workshop at the National Museum of Scotland. Inspired by the iconic Lewis chess pieces, participants of all ages created their own replicas from soap. Soap carving is an immersive, relaxing activity enjoyed and achievable by a broad audience. It's also easier to source than walrus tusk!
Printmaking, Historic Environment Scotland
Outreach projects with school groups to learn about recruitment posters and propaganda during WW1. Students learned about various themes and tactics used to recruit soldiers and to get the public behind the war effort. They then formed groups and created their own posters.
Jousting Helmets, Linlithgow Palace
Jousting helmets for an incredibly busy annual event at Linlithgow Palace. Visitors had the opportunity to transform themselves into a knight for the day. I have designed an extensive range of "make & take" activities for events at historic sites. Such an activity helps to engage with a family audience and to engage the custodians of the future in their heritage from an early age.
The Big Draw, Edinburgh Castle
A project with Historic Environment Scotland as part of The Big Draw, an annual event to engage people in drawing. Participants were from Comas, an organisation working with adults in recovery from drug and alcohol addiction. The group spent a day at Edinburgh Castle exploring and drawing their surroundings. I took elements of their sketches and combined them into a design which I transferred onto fabric. I visited the group at their HQ at Serenity Cafe and ran a batik workshop. The group were invited back to the castle for a private view reception and to witness their work being admired by the public.